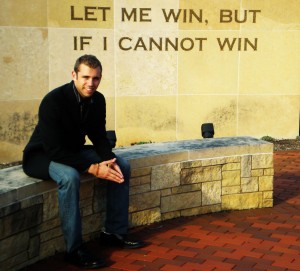 Chris is a recent college graduate, entrepreneur, consultant, investor, an empowerment to young adults and most of all, a dreamer. His passion is to influence the way his generation seeks success. With a seemingly overwhelming amount of ideas in his head, he has become committed to changing the way the world works for the benefit of humanity.
As young as 12 Chris knew his path was not to work for someone for the rest of his life but to control his own destiny and sculpt his lifestyle. As an intelligent youngster he launched his first business in 1999, a web design company called Ankele Web Design. Like most first time business owners it didn't go very far, but that was not something that could stop him. Tell Chris he cannot do something, and he will do it just to show that it can be done. He thrives on finding ways to do things that are outside of the "cookie cutter" mindset.
Though still in college, Chris has launched a few small businesses, one buying and selling scrap metals and the other a moving and storage business for students. However the clock is ticking and it is almost time to graduate. He realized that if was he going to be self employed after college, he had better get moving. Seeing the pieces of his life slowing falling into place Chris has been working towards developing a personal brand online. Offline he deals with social media marketing, small business consulting, affiliate marketing, and lifestyle coaching.
In addition, he has decided to focus some attention on a new venture. Being devoted to self-improvement and lifestyle development for 7 years, Chris decided to turn his life project into a new business called project: U – a self-help blog, training program, and soon to be book, designed to empower college students and young adults with the tools necessary to develop a desired lifestyle and an ongoing model for personal success!
My Current Bucket List

Help 20 people take control of their lives in 2010 (in progress)
Help 5 entrepreneurs start their businesses
Learn kick boxing (in progress)
Win a kick boxing tournament
Gain 20 pounds of muscle (in progress)
Run in the Chicago Marathon
Place in the Chicago Marathon
Learn to speak Armenian (in progress)
Learn to speak Spanish
Learn to speak German
Learn to speak Chinese
Learn to speak ENGLISH…
Launch Proj'ct – U (in progress)
Go to Armenia
Climb Mount Ararat
Launch a Real Estate Investment Company (in progress)
Get my pilots license
Fly to a remote island
Live on the beach and surf everyday
Visit Croatia
Take my buddies to Vegas
Help my sister start a bakery
Build a car with my dad
Take my mom to Armenia
Spend 1 day doing something with each living grandparent that they will never forget
Find and visit my great grandfathers grave
Sky dive
Drive across country in a whim
Go to Australia
Visit EVERY continent
Swim in EVERY ocean
Backpack through Europe
Sail around South America
Snowboard and Surf in the same day
Release a solo acoustic guitar album
Find a girl that can keep up with me and marry her
Get my vision corrected
Meet and become personal friends with Warren Buffet, Donald Trump, Timothy Ferris, Will Smith, Oprah, Bob Burg and
Tony Robins.
Perfect "Go-Giving"
Play a part in a movie
Hang glide
Couch surf for 6 straight weeks through 20 countries
Go into space
Visit the moon
Visit Mars