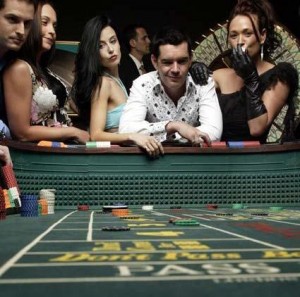 What is Risk? Let's start off by defining risk. Risk is the quantifiable likelihood of loss or less-than-expected returns. Everyone manages risk differently. To some, risk might be as simple driving over the speed limit, jumping out of a plane, or playing the stock market. What is the missing link between risk perceptions from person to person? The answer is confidence and knowledge.
Myth #1 – Risks Cannot be Managed
That is totally false. Have you ever felt you were taking a risk in something you were fully confident in? You make a decision to take a risk based on whether or not you feel it is a risk to you. The more you know about the perceived situation, the higher your confidence level. The higher your confidence level, the lower your fear, the lower your fear the greater chance of taking action. Invest in yourself and build your knowledge and experience, then risks suddenly become just an everyday thing. The quadrant below illustrates the interaction of confidence and knowledge in reference to risk taking.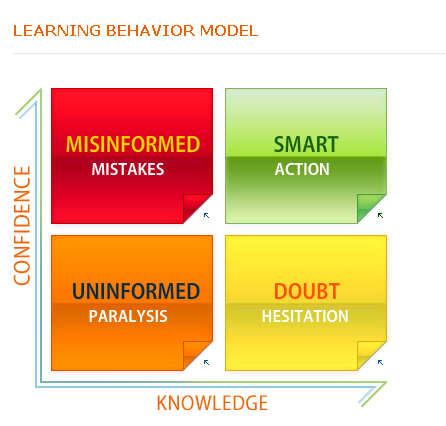 Myth #2- Risk Taking is Foolish
Ever heard the saying "no pain, no gain"? Risk and Reward, to an extent have a converse relationship. The higher the risk, the higher the reward.

For example, putting $10,000 in a savings account for one year at 6% interest and a 3.5% inflation rate would give you $10,244 after 1 year. Pretty nice, a free $244!

Alternatively let's say you have studied the stock market. You find a business whose stock is 1$. Your research and knowledge makes you confident that this company is about to take off. You buy, 10,000 Shares. Over the course of the next year, this stock needs to reach only $1.03 a share to obtain $10,300 more than the bank would pay. But instead, it goes up to $12 a share, then back down to $10 before you decide to sell. Your $10,000 has just become $100,000, which is $89,756 more than putting it in a savings account. Too risky? Not if you are confident and well informed.
Myth #3 – Risk Taking is Gambling
Risk taking is not gambling. Gambling is making a wager that must result in a gain or a loss, and often times, has no logical backing behind it. Last week I went to the casino. I typically play Roulette. I have a strategy, but it's slow, boring, and only so reliable. So I decided to play Craps. Being the second time I have played Craps I was still in the learning stage. I started with $40 on the table. Most others were putting down over $100 or more. Then this scruffy guy wearing a Kentucky sweatshirt walks up and drops 19, 100 dollar bills on the table. I laughed to myself. I ended up losing that $40, and most around me lost their money too. Why because we were gambling.

I left the casino with $300 more than I started over the course of 6 hours, not bad right? Well the whole time, that scruffy guy was STILL at the craps table. I went over and saw he had a stack of $500 chips and was playing over $2,000 a roll. I was in total awe. What was he doing that everyone else wasn't? I watched him. He basically did the opposite everyone was doing. He bet against the roller, and bet they could not hit the numbers they needed, and he never rolled. What I came to find was that he was up $14,000, won over $16,000 the day before, and over $20,000 before that. That is not gambling. He knew what he was doing, was confident in his betting and was reaping the rewards.
Myth #4 – I Cannot Take Risks
The truth is you can do it. What stops a person from acting? The answer is fear (and laziness). Fear, like risk can be managed, and though fear is healthy it should not run your life. It's true that in the tribal and natural sense of fear, it is a survival tool. It's a response to our environment that was used to keep us from getting killed. See the tiger – don't pet it. Hence the programmed fight, flight or freeze.

Often times our true fear is not fear of failure but fear of success. You will never succeed if you are afraid to win. Fear like everything else is tied to our perception. The easiest way to conquer fear is to face it.

It's ALL about that first step. For example, as babies we overcome the fear of walking by taking that first step. Walking then becomes just something we do without ever considering the fear of taking the next step.